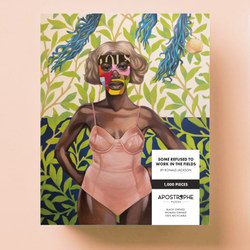 Apostrophe Puzzles
Some Refused To Work In The Fields by Ronald Jackson | Puzzle
Apostrophe Puzzles creates modern, fun, and vibrant jigsaw puzzles that celebrate the work of contemporary artists of color.

Ronald Jackson is an artist and painter who uses portraits and figurative works as a way of engaging the intimate stories and unique experiences of African Americans from the recent past.
Originally born and raised in the lower Arkansas Delta, Jackson left his pursuit of Architecture to join the military where he served in Asia, the Middle East, and Europe for over 12 years. After 21 years in the U.S. Army, his second career as an artist is a new and exciting venture. His work has been exhibited widely within the U.S., and has been acquired by various museum institutions and notable celebrity collectors. Jackson lives and works in Fredericksburg, Virginia.

Puzzle dimensions: 19 x 26 inches
Box dimensions: 10 x 8 x 2 inches
Piece count: 1000
Founded in Brooklyn in 2019, each of their bold, curated puzzles is an original artwork aimed at making art consumerism more inclusive, accessible, and sustainable. Their puzzles are made with 100% recycled chipboard, and printed with eco-friendly, non-toxic ink. They believe that supporting artists and investing in communities is a necessary step toward correcting systems of economic, social, and institutional injustice.
Apostrophe Puzzles is Black-owned, woman-led, and dedicated to a future of art consumerism in which everyone can participate. 
Piece together your art collection. Decolonize your puzzle collection.