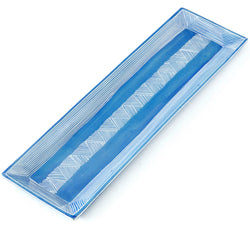 Home & Things
Blue Fine Line Long Soapstone Desktop Tray
Carvers in Kenya's western highlands craft the basic form for a long slender tabletop tray from soft soapstone.
Artisans in a Nairobi workshop then add a soft blue dyed finish and etched details. Because this is a handcrafted item, each will vary slightly.
Size: 10"L x 3"W. Materials: soapstone, non-toxic dye.

Made in Kenya.