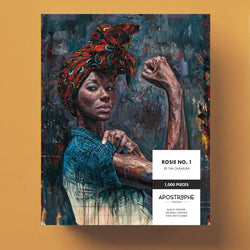 Apostrophe Puzzles
Rosie No.1 by Tim Okamura | Puzzle
Apostrophe Puzzles creates modern, fun, and vibrant jigsaw puzzles that celebrate the work of contemporary artists of color.

Tim Okamura's work investigates identity, environment, metaphor, and cultural iconography through a unique blend of realism and mixed media. His juxtaposition of street art and classic academic styles creates a distinct visual language that balances traditional story-telling portraiture with modern contemporary motifs.
Puzzle dimensions: 19 x 26 inches
Box dimensions: 10 x 8 x 2 inches
Piece count: 1000
Founded in Brooklyn in 2019, each of their bold, curated puzzles is an original artwork aimed at making art consumerism more inclusive, accessible, and sustainable. Their puzzles are made with 100% recycled chipboard, and printed with eco-friendly, non-toxic ink. They believe that supporting artists and investing in communities is a necessary step toward correcting systems of economic, social, and institutional injustice.
Apostrophe Puzzles is Black-owned, woman-led, and dedicated to a future of art consumerism in which everyone can participate. 
Piece together your art collection. Decolonize your puzzle collection.