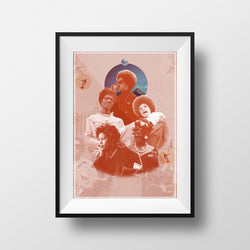 Philadelphia Printworks
To Be Led Print Poster Lambi Chibambo
An ode to those who paved the way and continue to do so.
Poster Print | 12" x 17"
Frame not included.
About the Artist:
Lambi Chibambo, who goes by Lamb of Lemila, is originally from Malawi, Lambi, and was raised in Cape Town, South Africa. After completing her studies in Film & Television and Media & Writing at The University of Cape Town, she decided to go on a grand adventure whilst pursuing a career in the art industry and developing her skills as an artist. On a mission to take over the world, she uses art as her medium to engage, explore, and understand all that is around her. Sharing those experiences through her work.