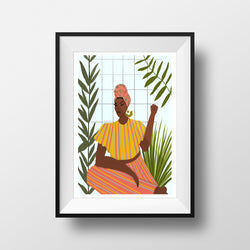 Philadelphia Printworks
Identity as Politics Poster | Loveis Wise
"Identity as Politics is all about staying true to yourself while embracing your radicalism." - Loveis Wise
Museum-quality; made on thick, durable, matte paper.
Printed on archival, acid-free paper. Poster Print 
12"x18" (Frame not included)
About the Artist Loveis Wise is a Freelance Illustrator based in Los Angeles from Washington, D.C. Some of her clients include The New Yorker, The Times, R.E.I., and the Philadelphia Printworks' Zine. At the age of 23, Loveis became the second Black woman to illustrate the cover of The New Yorker!